Accessible beaches are becoming more common in the United States thanks to cities taking on the cost to install beach mats and have beach wheelchairs available for use. With spring and summer vacation planning happening, we want to share some tips, tricks and locations of accessible beaches. Did we miss your favorite accessible beach? Tell us in the comments.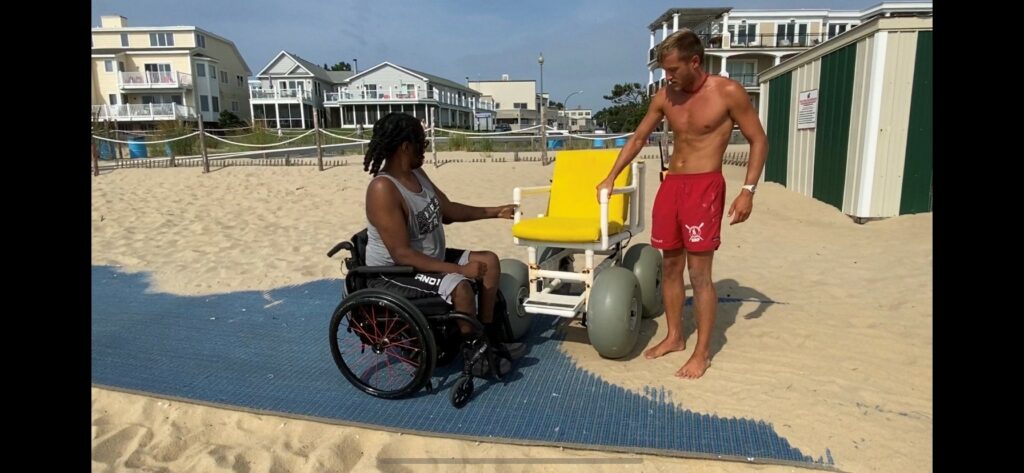 Tips and Tricks
Leon Harris and his family went to the beach for the first time in 2021. It was a great day, but came with learnings, too. "Call ahead to reserve the beach wheelchair," Leon recommends. Most of the accessible beaches have a couple beach wheelchairs total and they are popular during seasonal months. "Plan to make multiple trips to the car, especially with kids and gear." Leon and his wife took their young daughter to the beach and carrying the gear in one trip wasn't possible. "Reserve a large umbrella that the beach wheelchair will fit under," Leon says. "It gets hot!"
Popular Accessible Beaches in the United States
Emerald Coast, Florida
Located in the panhandle of Florida, several cities have installed Mobi-Mats that extend close to the surf. There are beach wheelchairs that can be used free of charge. You can rent a power beach wheelchair from Beachpoweredmobility.com or DestinWheels.com. Click here for a map from Destin Wheels on accessible beaches in Florida's Emerald Coast. Learn more: http://www.emeraldcoastaccessible.com/beach.html
San Diego, California
The city of San Diego has nine accessible beaches with Mobi-Mats. Click here for the complete list of beaches. Four beaches offer free manual beach wheelchairs at the lifeguard stations. Click here for the list. Power beach chairs can be reserved at the Mission Beach main lifeguard station. Reservations can be made at (619) 980-1876.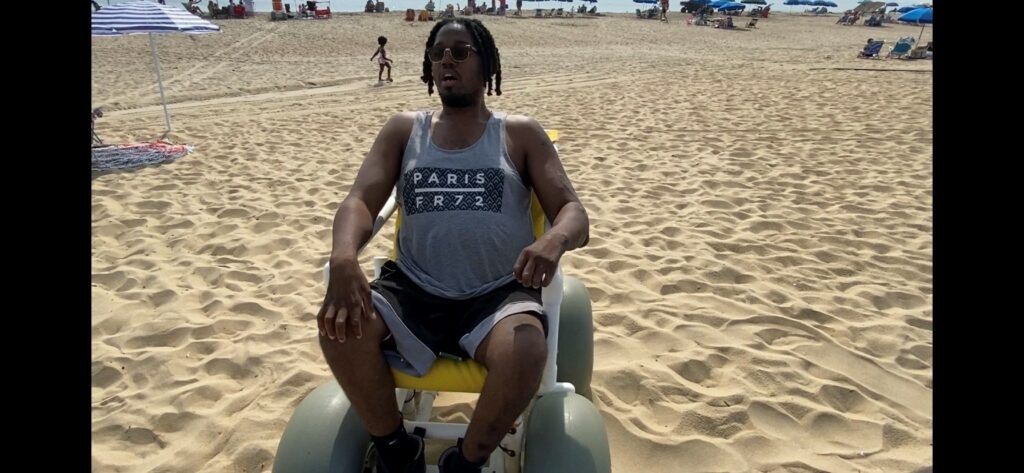 Virginia Beach, Virginia
Virginia Beach is known for its accessibility. They have 100 accessible parking spots, a ramp to the beach, accessible restrooms and an ADA park for kids with disabilities. Beach wheelchairs are free to use at three locations. Learn more on their website.
Gulf Shores, Alabama
Gulf Shores has four AccessMats on the beach. Three beach access mats are located at Gulf Place, and one beach access mat is located at East Gulf Place near the resident parking area. The mats stretch the sand and run parallel to the Gulf of Mexico. There are several places you can rent beach wheelchairs from. Two manual beach wheelchairs are also available free for public use. Learn more: http://www.gulfshoresal.gov/1268/Accessibility
Cannon Beach, Oregon
One of the first accessible beaches on the Pacific Northwest coast. There are beach wheelchairs for free of use. Learn more about reserving one on their website.
Outer Banks Beaches, North Carolina
This popular beach destination has several accessible beaches. Here you will find a list of beach and sound accesses with addresses and photos. Mobi-Mats are available at the Eighth Street Beach Access and Jennette's Pier Beach Access. Beach wheelchairs are available at a number of locations or through the fire department – click here for a complete list.
Cape Cod, Massachusetts
Along the coast of Massachusetts, you will find a number of beach towns throughout Cape Codthat provide beach wheelchairs free of charge, accessible boardwalks at some beaches and ADA changing areas. A few of the most accessible beaches are Brewster Beach (they offer 3 beach wheelchairs), South Cape Beach (accessible picnic tables) and Old Silver Beach. Learn more here.
Edisto Beach, South Carolina
The fire department in Edisto Beach offers beach wheelchairs free of charge. There are six accessible public access points to the main beach. Learn more: http://www.townofedistobeach.com/fire
South Padre Island, Texas
The city has 24 beach access points along the three mile stretch of Gulf Boulevard. Of the 24 beach access points, 18 are developed providing over 200 parking spaces with 19 of those being handicap spaces. Of the 18 developed beach access points all have a walk-over, stairs or mobi-mat; four are wheelchair accessible. The city has 6 mobichairs. To check out a mobichair, please contact the South Padre Island's Fire Department at (956) 761-3040. To learn more, please visit their website.