As an intermittent catheter user, the right catheter is critical to your health. Have you ever been told that your catheter of choice isn't covered by your insurance? Unfortunately, dealers are giving this reason for not providing a product as they promote lower cost products. The truth is that all catheters are covered by insurance. Here's how: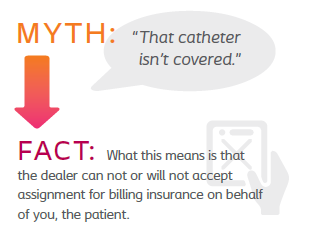 All urinary catheters are categorized into HCPC codes (Healthcare Common Procedure Coding System). The HCPC is a category that defines the reimbursement an insurance company will pay to a dealer for a type of catheter. Types of catheters include straight tip catheters, coude tip catheters, closed system catheters (a catheter with a bag attached) and condom/Texas catheters. This means that all brands of, for example, straight tip catheters fall under one HCPC and are reimbursed to dealers at the same rate. The manufacturer or type (hydrophilic or uncoated) does not matter. All straight tip catheters are reimbursed the same and all catheters are covered by insurance. Unfortunately, when a dealer tells you a catheter is not covered, they are refusing the reimbursement rate an insurance company will provide.
Has your dealer told you your catheter of choice isn't covered? We want to help. Comfort Medical works with your insurance to provide you the product of your choice. To learn more about Comfort Medical's personalized, honest and transparent service call us at 800-817-7461 or visit www.ComfortMedical.com.