Editor's Note: As a lover of movement, all aspects of Jayden Chapman's life included physical activity, from his involvement in sports to the various jobs he held. So when he broke his neck in a car accident eight years ago at the age of 26, he sought out new ways to participate in the activities he had always enjoyed. Wheel:Life talked to Chapman about his involvement with adaptive sports and the career path he chose to help himself and others better pursue an active lifestyle. 
Finding Adaptive Sports Post-Injury
Pre-injury, I had never imagined doing anything with my life that didn't involve being physically active. Every job I ever had was physically demanding, and I'd always been involved with sports. For work, I loaded trucks and taught rock climbing and karate. I was also a volunteer firefighter. Everything I did involved movement.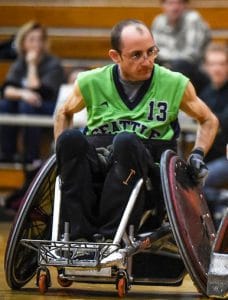 After my accident, I was introduced to adaptive sports right away. The first sport that I got into was wheelchair rugby despite having never played team sports before, so it was a ton of fun and a huge challenge. It was also great having a lot of support from my teammates. It put me into a situation where I was around 10 other guys once or twice a week who all had very similar injuries. It was a very supportive environment, and I learned a lot about how to navigate my new life.
"That was very helpful for me, and I would definitely encourage people to get involved with adaptive sports."
Triathlon was my main sport pre-injury, and I wanted to get back into it. I eventually moved away from rugby to pursue paratriathlon. Since then, I've done several sprint triathlons. In December, I went to Metal and Muscle in Houston. It's a weekend event where they hold various adaptive sports clinics and competitions. The main reason I attended was to meet with a coach and get an analysis and some feedback on my racing form. I was a lot faster the next time I got into my racing chair on the trail, so it was quite useful.
Athletic Goals
Because of the classification system in paratriathlon, I'm not really competitive. Right now, there is only one division for people who use wheelchairs, so with a high-level spinal cord injury, I can't compete with double-leg amputees, for example. My goal is, mostly, to have fun. Currently, I'm working toward a Half Ironman. If I can get fast enough to make the time cutoffs, I'd like to do a full Ironman.
"I just want to push myself to see how fast and far I can go."
In general, I've always enjoyed pushing myself. If something sounds hard, I just want to see if I can do it. I look at everything as a chance to learn and grow, and accomplishing something difficult is an opportunity I don't want to pass up.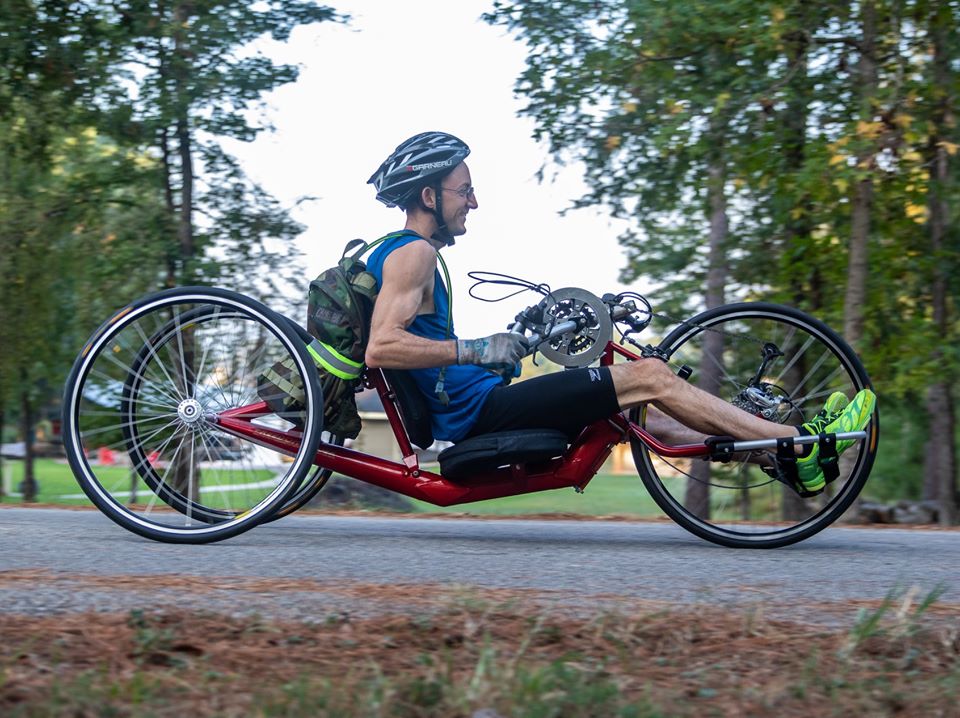 Finding a New Career
Before my injury, I had been in school part-time for fun but wasn't planning on using it for anything. After my injury, I continued taking classes since I couldn't go back to work. Many years later, that culminated in a master's degree in nutrition. Now, I'm a registered dietician.
I haven't worked specifically with athletes with disabilities yet, but that is an area I'd like to specialize in, especially if there's interest.
"Some nutrient requirements are different for athletes with disabilities, and we can individualize a nutrition program in interesting ways based on many factors."
I did one of my internship rotations with Ironman in Houston, and I just read a book they gave me about nutrition for athletes with disabilities called Sports Nutrition for Paralympic Athletes by Elizabeth Broad. Since there are so many disabilities to cover, there was minimal information on SCI, but some of it was still new to me.
Nutrition Tips for Athletes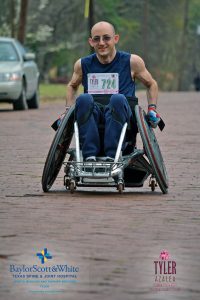 Some of the first areas I'd recommend looking at for people who would like to improve their health are:
Hydration – Are you drinking enough water?
Protein – Are you getting enough protein spaced throughout the day?
Calorie Intake – Are your calorie needs in a reasonable range? Sometimes athletes who are very active, especially endurance athletes, aren't eating enough, and that hurts performance.
Variety – Are you including a lot of colorful fruits and vegetables in your diet to get a wide variety of nutrients?
If you want to get personalized recommendations, as well as help figuring out how to implement them into your life, dietitians are trained to do just that.
Anyone Can Do Anything
Before my injury, I did the Seattle to Portland bike ride several times, and one year, I saw a guy with no legs and one arm on a handcycle. He really stuck out to me, and I remember telling myself that if anything catastrophic ever happened to me, I knew I could still be an athlete. I always kept that in my head, and I knew there was no reason anyone couldn't do anything they wanted to do if this guy can ride 200 miles with one arm. Around five years post-injury, I was out on my handcycle, and a one-armed guy raced me down. It was him!
Don't Limit Yourself 
It takes time to figure out where you're going to end up physically after a catastrophic injury. One thing that's helpful to me is not putting limitations on myself.
"There are a lot of ways to be involved in whatever you want to do."
It will take time to figure out how to make it happen, but if you really want to be involved in something, try to find ways. It's going to look different than it did before, but just keep pushing yourself.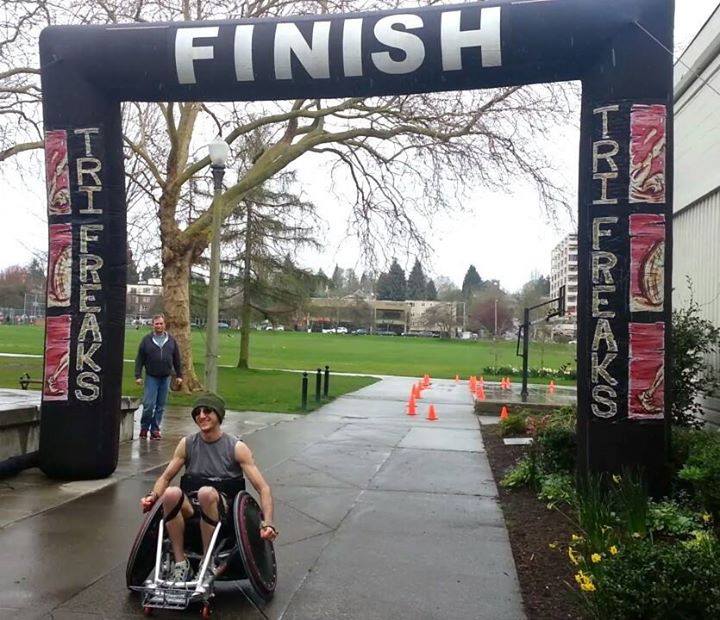 Editor's Note: Connect with Jayden on Facebook @jaydenc85.
All information contained in this article was extracted from an interview and email communication with Jayden Chapman. It has been lightly edited.
About the Author
Betsy Bailey has a diverse background that includes experience in travel and culinary writing, business operations, marketing research, and playing volleyball professionally overseas.
Betsy has been writing for Wheel:Life since January of 2017 and thoroughly enjoys the process of getting to know her interviewees. She also enjoys a good vegan brunch, practices parkour, speaks French fluently, and travels any chance she gets!