The medical supply industry publication, HME News, shared this story recently about a good samaritan that we'd like to pass on to you as well.  Tell a friend today about Ed!

Medical supply provider Ed Dressen found himself in the spotlight this week, just for doing his job.  On Jan. 12, right after the buzzer sounded on North Carolina State's close win over No. 1-ranked Duke University, student Will Privette, along with hundreds of other fellow Wolfpack fans, rushed the court—in his wheelchair. Caught in the crush, Privette and his wheelchair were toppled.
According to an interview with NBC News, Wolfpack player C.J. Leslie spotted Privette on the floor and sprung into action. NBC News reported, "the N.C. State forward, who led all scorers with 25 points, turned out to be the star of his team's 84-76 victory Saturday against the Blue Devils in more ways than one."
"I looked down and he was there and he was covering up his face, and I was like, 'Oh wow, I got to save him.' Something came over me. 'You got to do something about this,'" he told himself.
In the video interview below, Jeff Fischel catches up with NC State student Will Privette, who boldly rushed the court in a wheelchair, following NC State's win over #1 Duke. Privette talks about how he's feeling, C.J. Leslie coming to the rescue, and shares his camera-phone video of the experience.
Here's the video footage of the incident:
[youtube https://www.youtube.com/watch?v=RZqROczAHNU&w=560&h=315]
"I was actually watching the game at home and saw him sitting out front, and then the announcers were saying, 'Oh no, he's going over,'" said Dressen, owner of Dressen Medical Supply.
Dressen asked his daughter, also an N.C. State student, to find out if Privette's wheelchair had been hurt. The damage wasn't too bad: Although the chair back was "crumpled," the frame was intact. Luckily, Dressen had a suitable replacement on hand, and on Sunday last week, he drove to Privette's house and fixed his chair for free.
See what happened next by reading the full story on HME News!
Learn more about Dressen Medical here.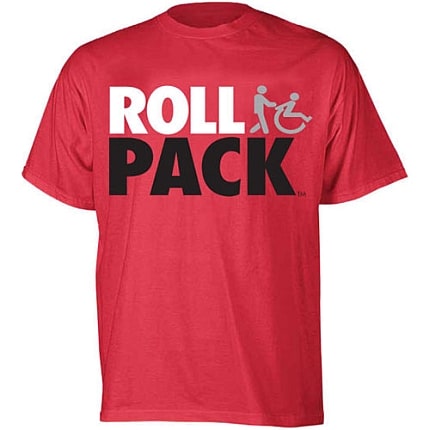 Additionally, a t-shirt has been created to honor Will Privette's brave act.  $2.00 for every Roll Pack shirt sold will go to "We Connect Now," a student organization on campus that acts as a support network for NCSU students with disabilities.
One of the goals of We Connect Now is to help college students with disabilities to succeed in their studies by getting the information and support they need, both through resources, links, blogs latest news, studying existing laws and regulation and through personal contacts.
Wheel:Life is familiar with We Connect Now - it's a fantastic organization with chapters at colleges all over the country.  This is a great cause to support!
Do you have a college story that you'd like to share about using a wheelchair on campus or at sporting events? Contact us to pass it on, we'll be glad to share it with the Wheel:Life community!