Editor's Note: Peter Arballo was born in Southern California to Mexican migrants. At the age of 10, his father left, and his mom took on the full responsibility of raising seven children alone. Arballo shared his story with Wheel:Life, including how he was injured and how wheelchair sports saved him from continuing down a dark road.
I was pretty athletically inclined in high school, but my senior year, I wasn't allowed to play sports due to my poor grades. I decided to drop out and join the Air Force. I went to Mississippi for training and joined a baseball club there. I played throughout my Air Force tour, and in the spring of 1959, a scout from the Philadelphia Phillies invited me to try out for them. I was thrilled to death, but I didn't know what to do, because I wanted to make the Air Force a career. I talked to my commander, and he convinced me to try out — it was a once in a lifetime shot.
During my four years in the Air Force, I had gotten married and my daughter was born just a few weeks before I got the invitation from the Phillies. Shortly after giving birth, my wife was hospitalized with tuberculosis. As I was driving home with my discharge in hand, I rolled down the windows and turned up the radio so I could stay awake. Psychiatrists tell me that concentrating on the white line on the pavement most likely hypnotized me, and I fell asleep. I crashed into the railing of a bridge, and the car flipped. At the time, seatbelts were not required, and since I wasn't wearing one, I was thrown into the ditch. Someone found my car that night, but they didn't find me.
The next morning, a man drove by on a tractor and saw the broken railing. He stopped and looked over into the ditch and saw me down in the creek. An ambulance came, and I was taken to the nearest hospital. The accident left me paralyzed from the waist down. I was devastated.
I was in the hospital for around eight months, and since my wife at the time was sick with tuberculosis, she couldn't come see me. The in-laws had to take care of the baby. That was a difficult challenge for all of us.
Feeling Sorry For Myself
One of my uncles finally got me involved with Little League, and we started going out to the bars after practices and games. I became what I call a weekend alcoholic. During the week, I wouldn't drink, but on the weekend, I'd sauce it up. It killed the pain and helped me forget about feeling sorry for myself. I'm 5'11", and when I first got out of the hospital, I weighed about 125 pounds. With all the drinking, I ballooned up to about 210 pounds.
Wheelchair Sports Saved My Life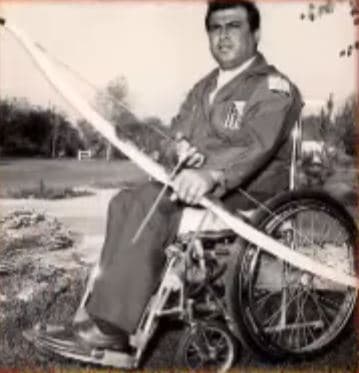 I found out about wheelchair sports when I went to the hospital to get a checkup one day. While I was waiting, I opened the newspaper to the sports page, and there was a feature about a young lady who had just come back from Winnipeg, Canada, for the Pan American Wheelchair Games where she had won medals in several events. At the bottom of the article, it had a number to call for anyone interested in getting involved in wheelchair sports. I called, and the man I spoke with told me to come to their basketball practice that weekend.
Just like a duck takes to water, I took to wheelchair basketball.
I loved it. When I get serious about something, I really get into it — 1000%. I joined the team and on days we didn't practice together, I'd go shoot around. I made friends with a guy who was into weightlifting and started working out with him. I lost some weight and gained a lot of muscle. I also got into archery. I was fit and loving it. You could say wheelchair sports saved my life.
And He's Off!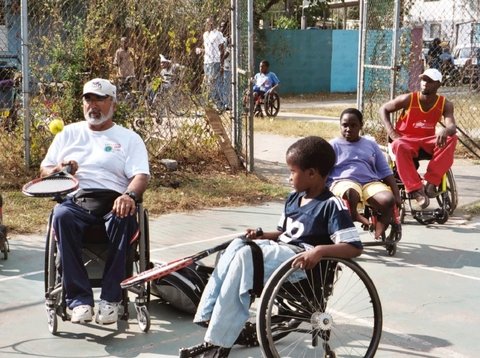 In 1968, I asked if I could be an extra on the US Paralympic Team. They accepted me, so I went to Tel Aviv, Israel, for the Paralympics. I won a gold medal and set a world record in archery for our country. While they were putting the medal around me, I said a little prayer asking for the strength to encourage others get involved in wheelchair sports.
I started traveling a lot for international competitions, but back in California, I decided to create a wheelchair basketball league. We already had a recreational team, but once I got the competitive league going, we were able to travel and compete against other teams in California. We had a lot of fun.
Relationship Blues
Being away from home so much put a lot of strain on my marriage, which eventually led to a divorce in 1971.
I met my present wife in 1972. We got married a couple years later and had a son in 1978. I was still drinking quite a bit at the time and going through a midlife crisis. My wife moved away for a while. She had recently become a Christian, and before she left, she said, "I put a Bible on your nightstand. The only way you're going to know about Christ is by reading it." So one night while she was gone, I picked up the Bible and started reading it. I found that it made a lot of sense to me, so I started going to church and doing the best I could to change my life. My wife came home about six months later.
On the Road
In 1985, one of my friends asked if I wanted to go to China to play basketball. I told him I'd go only if the guys on the team were committed and didn't take drugs or get drunk; that seemed to be their usual habit. When we go overseas and an American gets drunk, people always say, "Those crazy Americans!" I didn't want to be a part of that. When he told me the guys on the team decided not to go, I got some other friends together to form a new team, and we went to Hong Kong. That inspired me to start working for an organization called Amateur Sports Development USA. The following year, we went back to Hong Kong to play.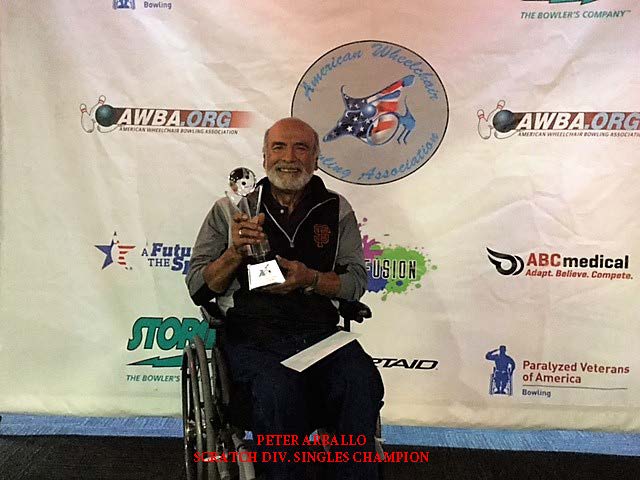 Over the course of a few years, I took teams to Singapore, Malaysia, Italy, Sweden, and Ecuador. We also went to the World Expo in Australia and Spain, where we put on wheelchair basketball, table tennis, and weightlifting exhibitions. I went down to Guatemala to teach archery, field events, and basketball. A club in a small town in Romania asked me to come run a wheelchair sports camp, so I went there five years in a row. The first year I trained them, they ended up winning their national basketball championships. I was really thrilled about that!
Editor's Note: Along with competing in the 1968 Paralympic Games, Arballo was also a member of the 1972 team in Heidelberg, Germany, where he placed fourth in two events. Being chosen as the Hispanic Heritage Month Honoree in 2007 and an induction into the US Wheelchair Sports Hall of Fame in 2009 are only a few of many awards and recognitions he's received in his nearly 80 years on earth.
See Peter Arballo's Video for Hispanic Heritage Month 
Doing the Best You Can — Travel Worries & Insights
All of my travels were tremendous. Hotels overseas were usually difficult, but you do what you can. I remember taking a team to Italy, and we all had to take off our footrests so the elevator could close. Otherwise, we couldn't make it up to our rooms!
I always tell flight attendants that in case of emergency, the best thing to do to get me off the plane is to put a blanket on the floor that I can lie on, and then they can drag me out. It's much easier than trying to carry me.
For most of my travels, I would network with local churches and get accessibility information from them. In Romania, we had a wheelchair user scout everything out for me ahead of time, and he was able to find an accessible hotel.
You do the best you can with the little that you have.
People say, "I don't know if I could do that." But if you're in that situation, you're going to adjust. We can't walk, but we can do everything else.
Right Up My Alley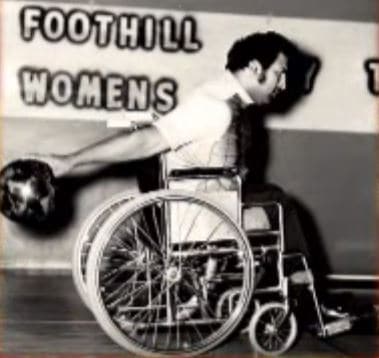 I got involved with bowling in 1979, and the following year, I went to St. Petersburg, Florida, and won the A Division National Championship. I continued to bowl a lot, and I was winning local tournaments, but I didn't win another national championship until 2000 in Las Vegas. Last month, at the age of 79, I won another national championship in the scratch division.
Editor's Note: Hear Arballo talk about his latest victory in an interview with the American Wheelchair Bowling Association. See the video here.  
Retired Life
A few years ago while on my way home from my last trip to Romania, I decided the travel was getting to be too hard on me. I was coming back from trips completely exhausted, so I finally retired from international travel.
Now I love gardening. I have my plots raised, so I don't have to bend all the way down to the ground. I have tomatoes, corn, squash, zucchini, jalapeños, and pumpkins, and I do all of my gardening myself. I also still do a lot of bowling. That's what occupies me the most these days.
My wife and I try to stay physically active by going for walks around our neighborhood, and I push myself in my wheelchair.
I've been blessed tremendously, and I try to do the best I can to help other people and let them know that what happened to me was only through the power of Jesus Christ. He knew the plans he had for me when I sure didn't. I never realized when I got hurt that I would be anything, much less be on the US Paralympic Team and win a gold medal for our country.
Never, Never, Never Give Up On Yourself!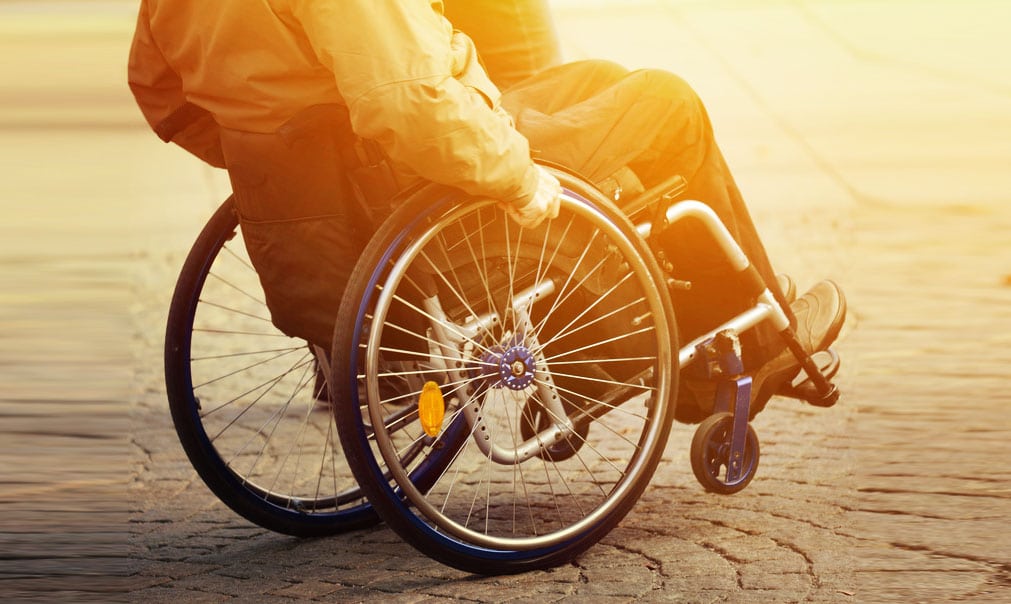 You're in a wheelchair, and there's nothing you can do about it. If there are any medical advances, somebody will let you know. But for right now, just get over the "feeling sorry for yourself" stage. It's okay to feel sorry for yourself at first, but you can't dwell on it. Get involved with wheelchair sports or some sort of physical activity, and if you haven't already, get your education. If you were working at the time of your injury, go back to where you worked before and get your job back. They have to make your workplace accessible so that you can continue your work. Also, you have to love yourself, because God says, "Love your neighbor as yourself." If you don't love yourself, how are you going to love your neighbor?
Most of all, never, never, never give up on yourself!
About the Author
Betsy Bailey has a diverse background including experience in marketing research at American Express, business operations and client relations with 601am, travel and culinary writing with VegDining, and playing volleyball professionally overseas.
Betsy is excited to get back into writing, something she's adored since childhood, and thoroughly enjoys the process of getting to know her interviewees. On top of her work with Wheel:Life, she also teaches students learning English as a second language, speaks French fluently, and travels any chance she gets!