Tony Torres' passion for wheelchair motor cross (WCMX) – and giving kids access to these activities – drives him. Born with spina bifida, when Tony discovered WCMX he immediately knew he wanted to learn the sport. Inspired by the sport's founder, Aaron "Wheelz" Fotheringham, Tony adapted his first action sports wheelchair and started teaching himself. WCMX is an extreme sport adapted from skateboarding and BMX, where athletes perform tricks and stunts on skate park ramps, while using their manual wheelchair. Stunts including jumps, slides and flips. The sport has gained national and international attention through competitions, championships, and clinics.
WCMX "is a movement Aaron started. He's one of my biggest mentors. Everyone looks up to him … we do events together and it's an amazing feeling [to be competing or teaching with him]."
Talking about his initial experiences with WCMX, Tony remembers the first step of trying a new trick is the hardest step. "You have to forget about the fear and start doing it; that's when you actually start having fun!" Kids are transformed when they try that first trick and succeed. "On the other side of that [initial fear] is a different kid. A more confident kid that now thinks if I can do this sport I can do that sport, too."
"Working with the little ones keeps me pushing to do better and seeing them progress has been a real privilege in my life."

Tony Torres
Today, Tony runs his business, TNT 360 Mobility, giving kids access to action sports wheelchairs, adaptive sports equipment, safety gear, parts and accessories. "I've been around [wheel]chairs my entire life … I want to make sure the kids feel confident in their [sport] chair and [make] sure they fit."
TNT 360 Mobility offers adaptive wheelchairs at a lower cost and in some cases at no cost, all made possible through the donation of sport chairs and the work Tony puts into fixing up the chairs. His website is also a compilation of resources, including a directory of adaptive sport organizations and organizations that provide grants to cover adaptive sport and medical costs.
In addition to fitting, painting, and adding necessary parts and accessories, Tony spends time mentoring kids in the action sports community through WCMX clinics, locally at skate parks, and is involved with Life Rolls On and the Spina Bifida Association in Central Florida.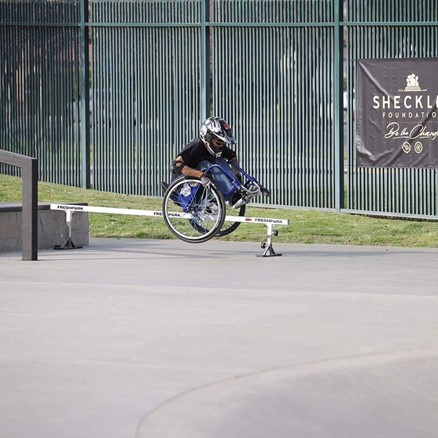 Tony's upcoming clinic is hosted by Life Rolls On and takes place June 4 at Swift-Canrell Park, outside of Atlanta, GA. To register or for more information visit the Facebook Event Page.
Follow Tony and TNT 360 Mobility on Instagram for the latest on WCMX.