Editor's Note: Diagnosed with spina bifida before birth, nine-year-old Charlie Krouse uses a wheelchair for mobility but has full use of his upper body. Earlier this year, Freedom Concepts teamed up with the Tampa Bay Lightning NHL team, two Florida charities (Wheelchairs 4 Kids and Charlie's Champs), and Pediatric Therapy Services to create a custom handcycle for the avid sled hockey player. Much to his delight, they surprised him with his brand new handcycle at a community sled hockey event this summer. Wheel:Life talked to Charlie's dad, Ryan Krouse, about his son's involvement with the sport and the benefits of having a Freedom Concepts handcycle.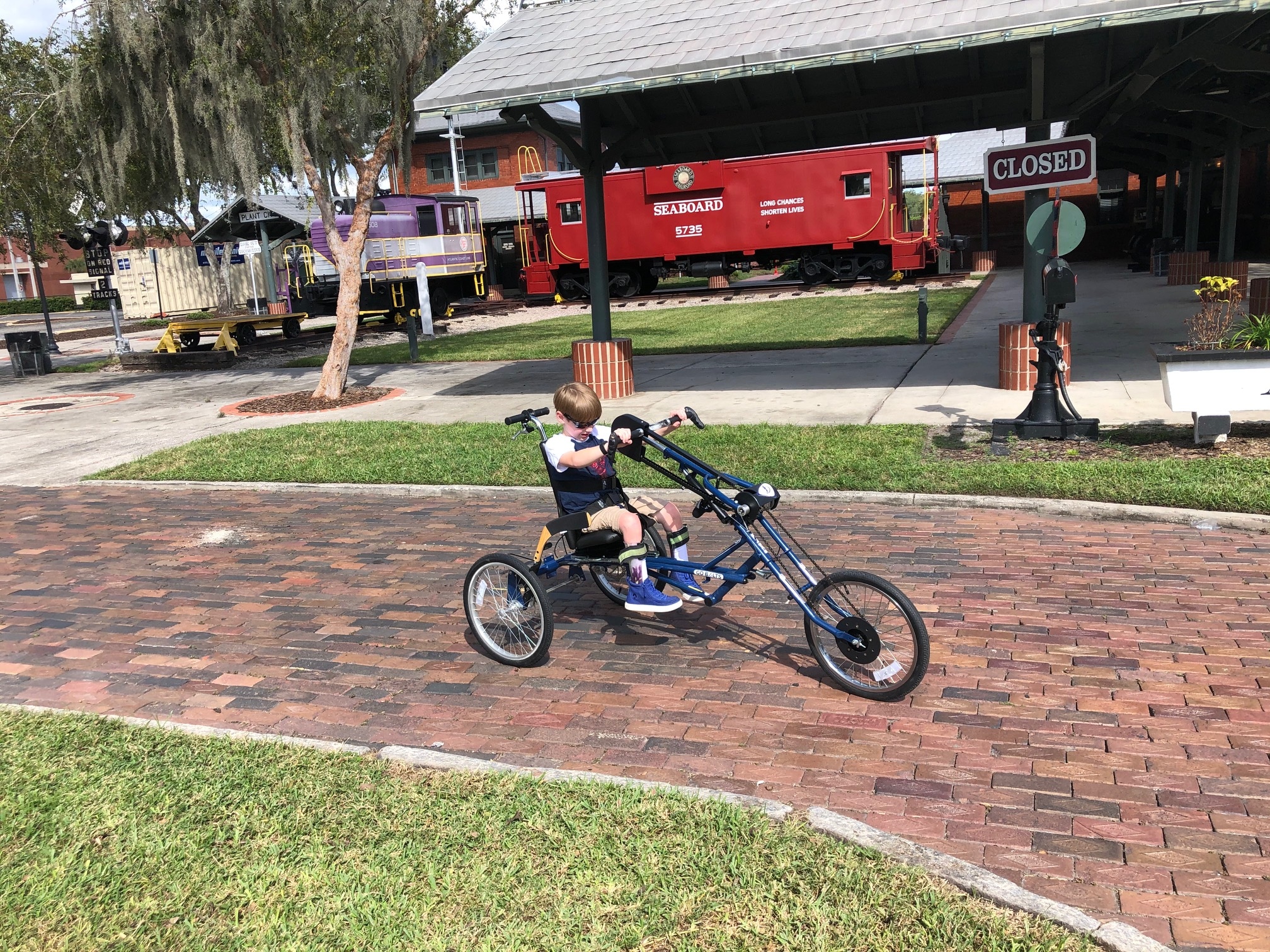 Ryan, tell us a little bit about your son Charlie.
Charlie is your typical nine-year-old. He has the same drive, wants, and dreams. The only difference between him and his peers is he needs his wheelchair to keep up with them.
How did Charlie get involved with sled hockey, and what's his favorite part about playing?
When we were new parents to a child with spina bifida, we learned that the Tampa Bay Lightning had a sled hockey program. It's something we always kept in mind, so his mother made contact and followed through with Charlie's involvement.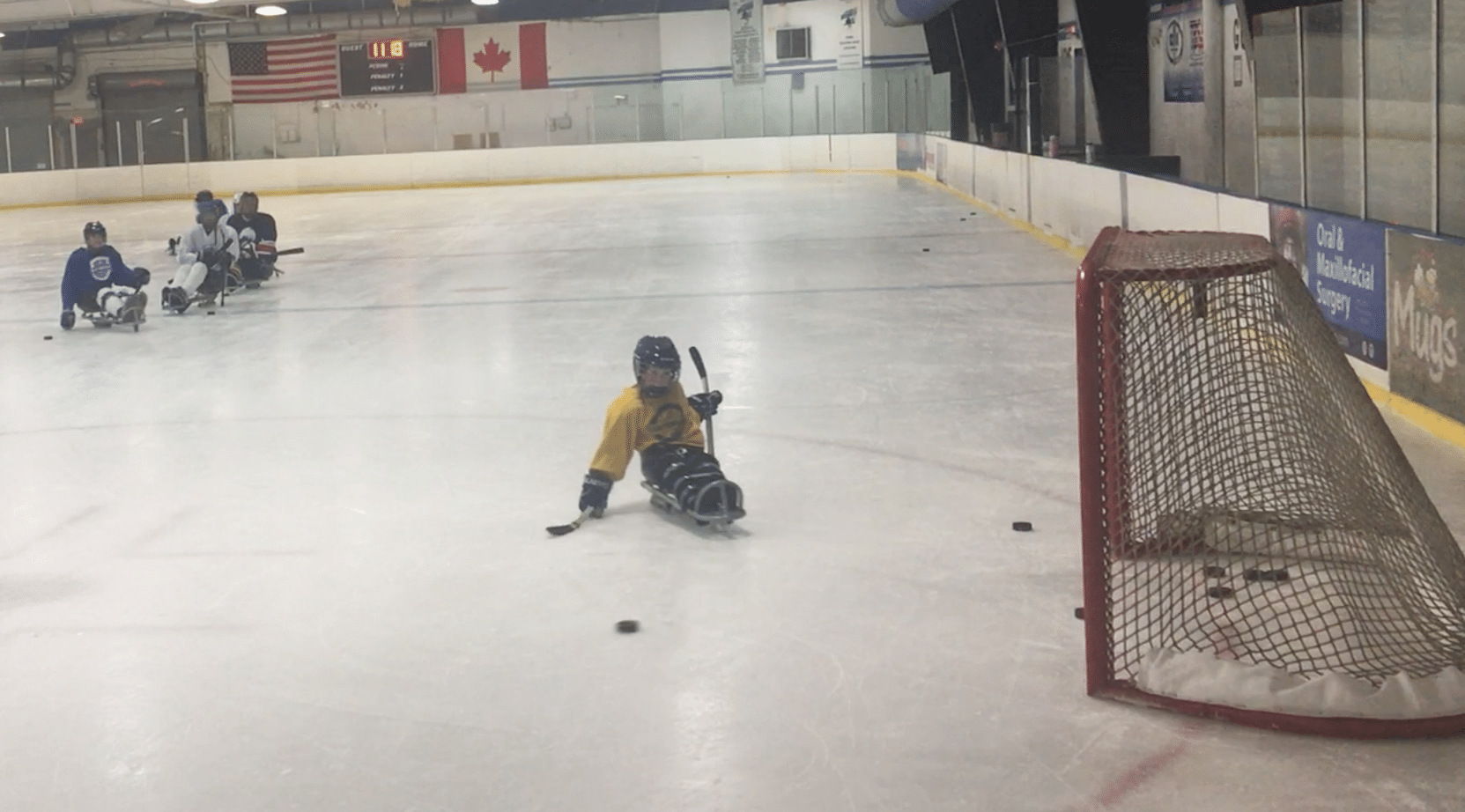 He is still learning and improving his game, but he likes putting on his hockey gear and showing off the skills he has learned. He also enjoys mentoring other kids who are new to sled hockey.
Editor's Note: Check out Charlie in action on the Tampa Bay Lightning Facebook page!
How did you first hear about Freedom Concepts?
Charlie's physical therapist, Ms. Nadia Gaddis of Pediatric Therapy Services, told us about Freedom Concepts. She is actually responsible for putting all of this together for him. If it weren't for her, Charlie would not have this one-of-a-kind handcycle.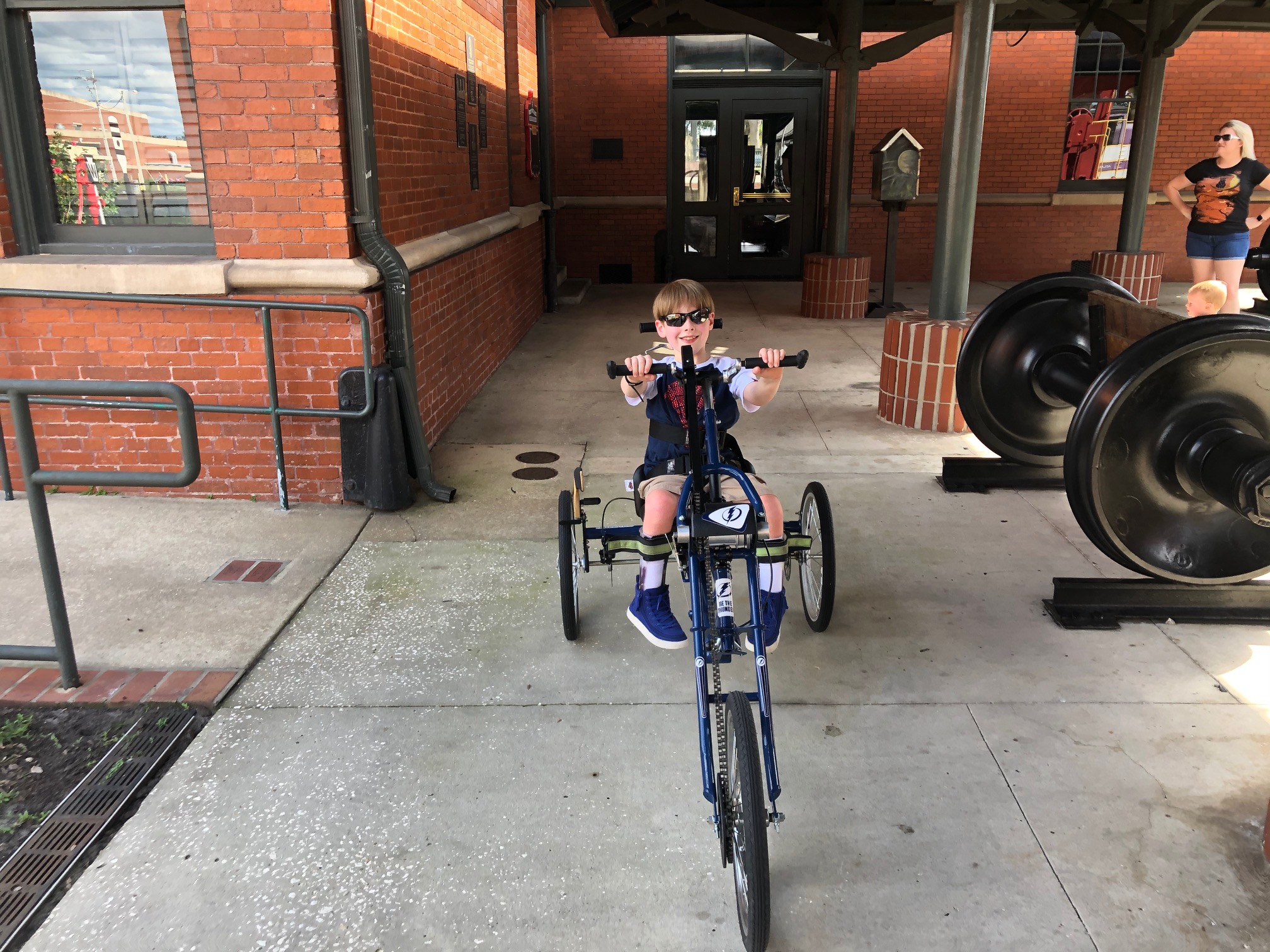 Can you describe Charlie's Freedom Concepts handcycle?
His handcycle is absolutely amazing! It has a blue frame with Tampa Bay Lightning logos attached. The seatback cover is beautifully stitched with the logo as well, and the brake handle has been fashioned out of the blade of a hockey stick. It is truly one of a kind.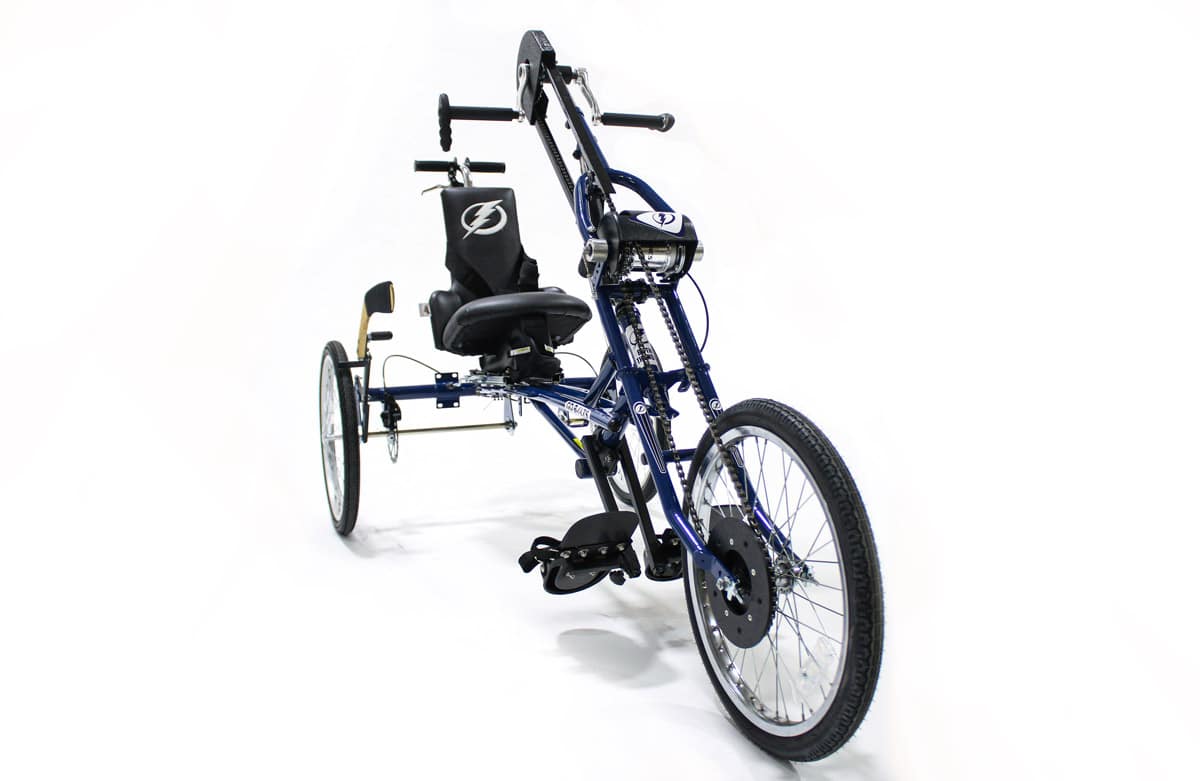 The handcycle has been customized for Charlie, and I cannot say enough about the staff at Freedom Concepts. We needed an adjustment to the footboards to fit Charlie's feet better. James Wall at Freedom Concepts coordinated with Ms. Nadia Gaddis and his fabricators for measurements and a solution. Several weeks later, they mailed me a bracket and instructions for installation, and now Charlie's feet fit more safely and comfortably in his handcycle.
It's a good feeling to know that Freedom Concepts stands by their product.
Editor's Note: Read more about Charlie's Tampa Bay Lightning Custom Defier Handcycle here.
What does Charlie like best about his handcycle?
He loves the ability to ride in something other than his wheelchair. He also enjoys the fun of riding a bike like a normal kid.
Will he be able to continue to use his handcycle as he grows?
Absolutely! The handcycle is adjustable and will fit Charlie all through his teenage years to early adulthood.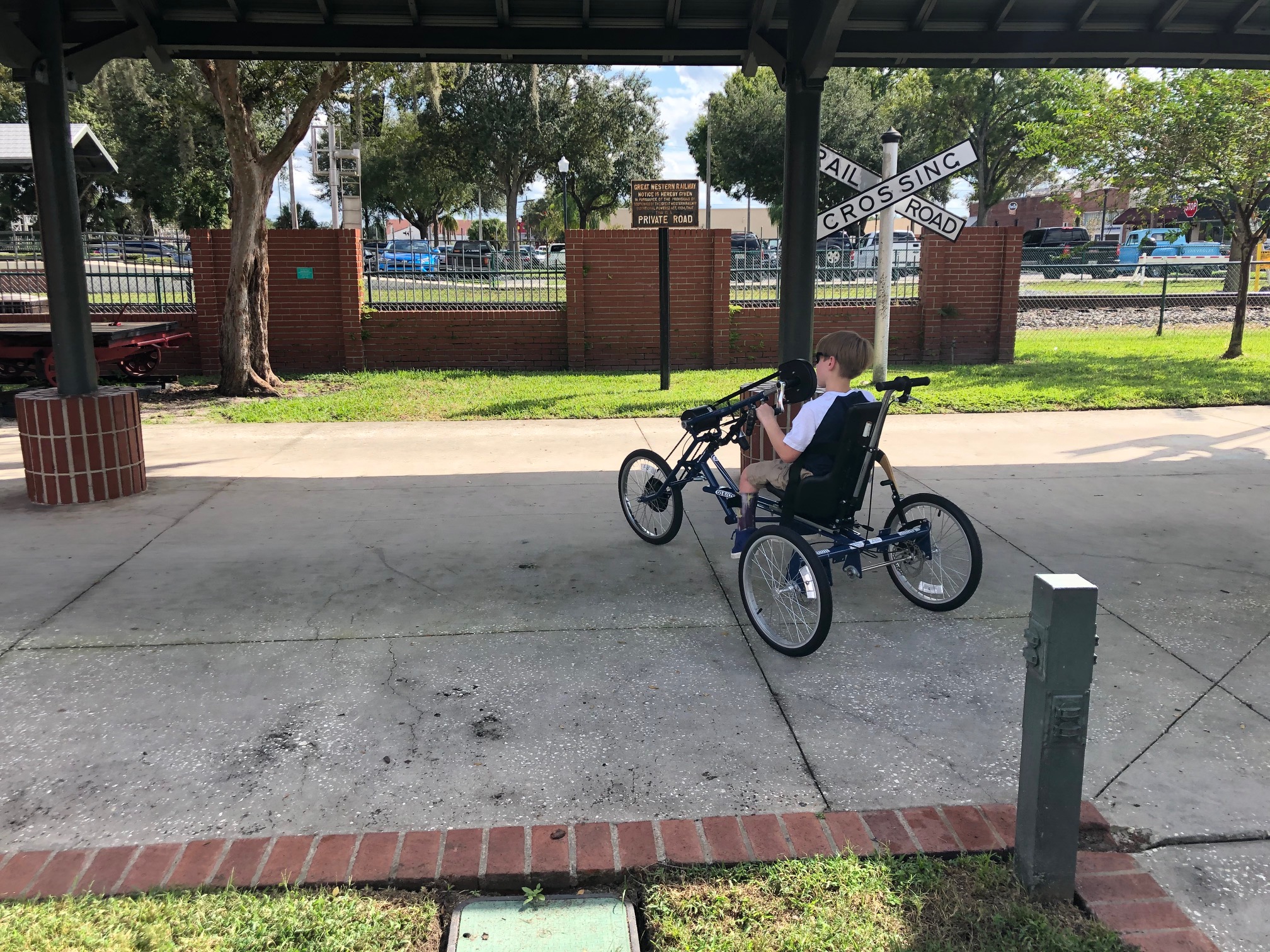 As a parent, what do you feel are the benefits of Charlie having a handcycle?
His handcycle gives him the freedom to ride off with his friends and siblings. It provides independence and the responsibility of learning bicycle safety and maintenance. Lastly, it will open up other avenues for Charlie's physical therapy.
Editor's note: To learn more about Freedom Concepts, visit FreedomConcepts.com, and take a look at these stories about families who enjoy their adaptive bikes and the charities that help make it happen: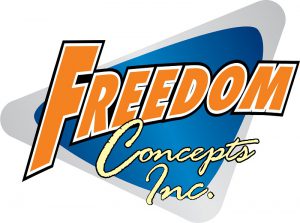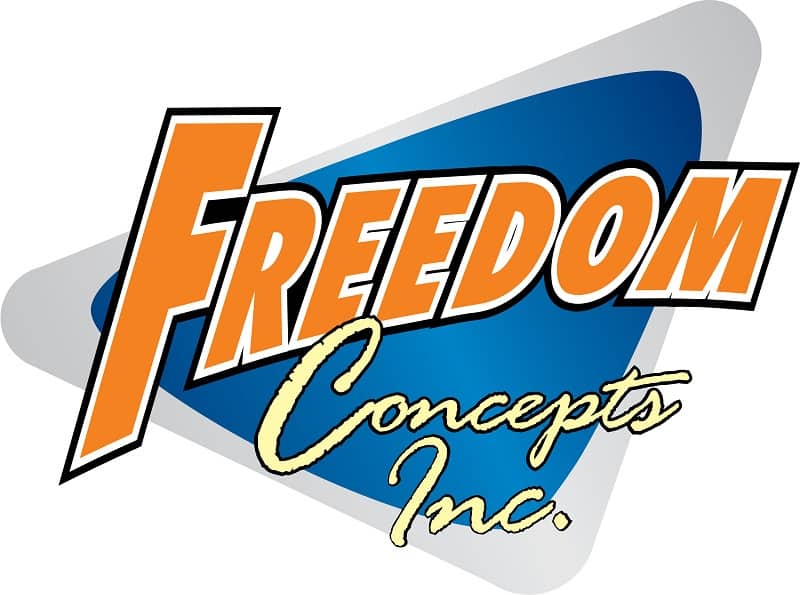 About the Author
Betsy Bailey has a diverse background that includes experience in marketing research, business operations, travel and culinary writing, and playing volleyball professionally overseas.
Betsy has been writing for Wheel:Life since January of 2017 and thoroughly enjoys the process of getting to know her interviewees. She also practices parkour, speaks French fluently, and travels any chance she gets!