By now, we've all heard the reports — our modern way of life is destroying the planet we call home. Plastic fills our oceans, burning fossil fuels pollute the air we breathe, and wild pollinator counts continue to decline, threatening our ability to produce sufficient sustenance for our growing population. Yet, simply being aware a problem exists doesn't mean taking action comes easily, especially when you may be dealing with the more immediate matters in your day-to-day life that come with having a disability.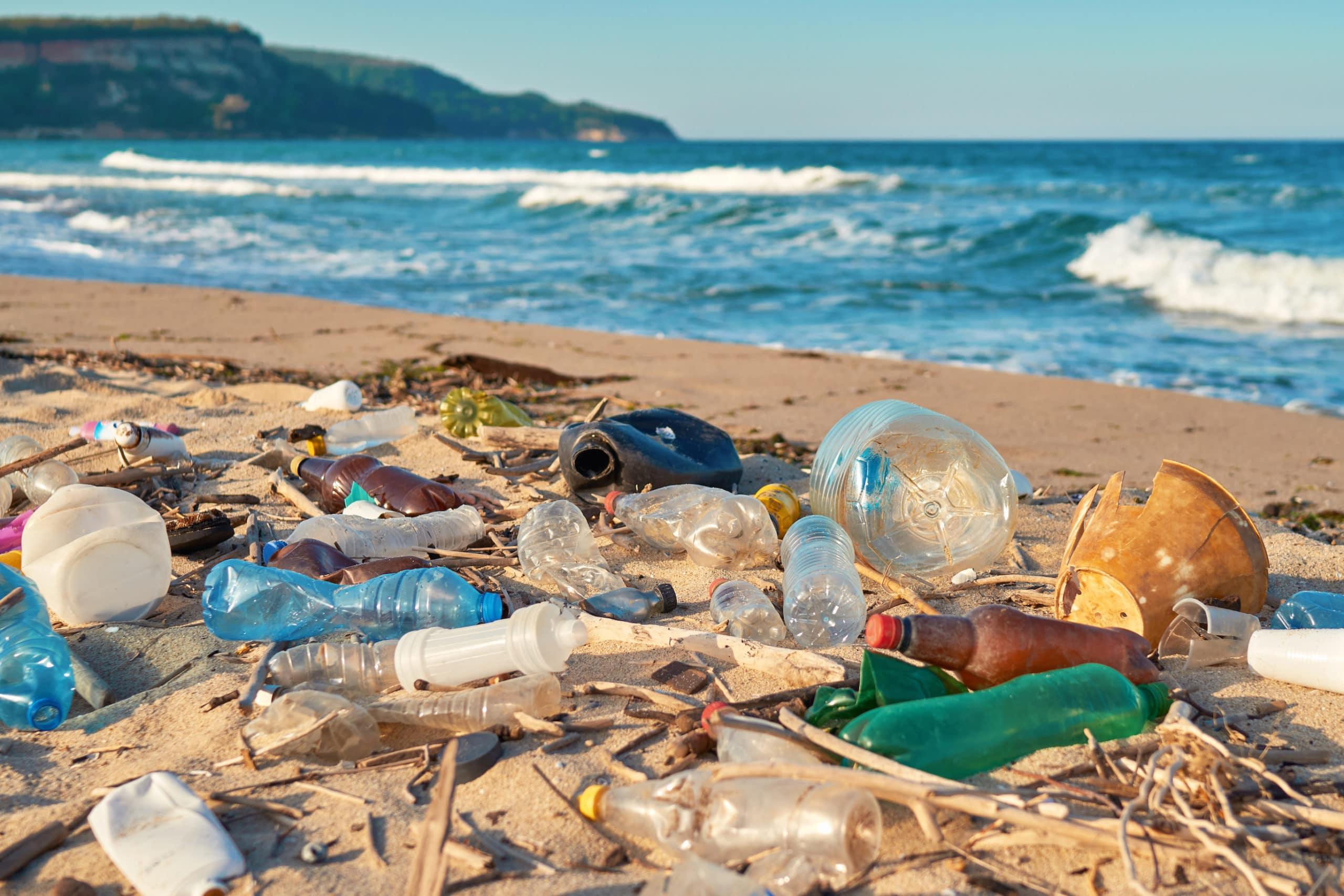 Comfort Medical Ambassador Hydred Makabali admits that the environment hasn't always been at the forefront of her daily thoughts. However, since recently finding better ways to manage various health issues, she has begun thinking more deeply about ways to reduce her carbon footprint. Here is what she's currently doing as well as some other ideas she has been contemplating.
Recycling
Recycling is perhaps the most convenient way to reduce the amount of waste you contribute to landfills. Most communities offer a recycling program where you can sort paper and plastic packaging into a separate bin. If it is available at your place of residence, make sure to learn the rules on how to differentiate recycling from trash. If that information hasn't been provided to you, check to see if the bin has a guide on the lid or consult the recycling company's website for details. Although the recycling area of her apartment complex isn't wheelchair accessible, Hydred asks her partner, neighbor, or a family member to empty her bins for her.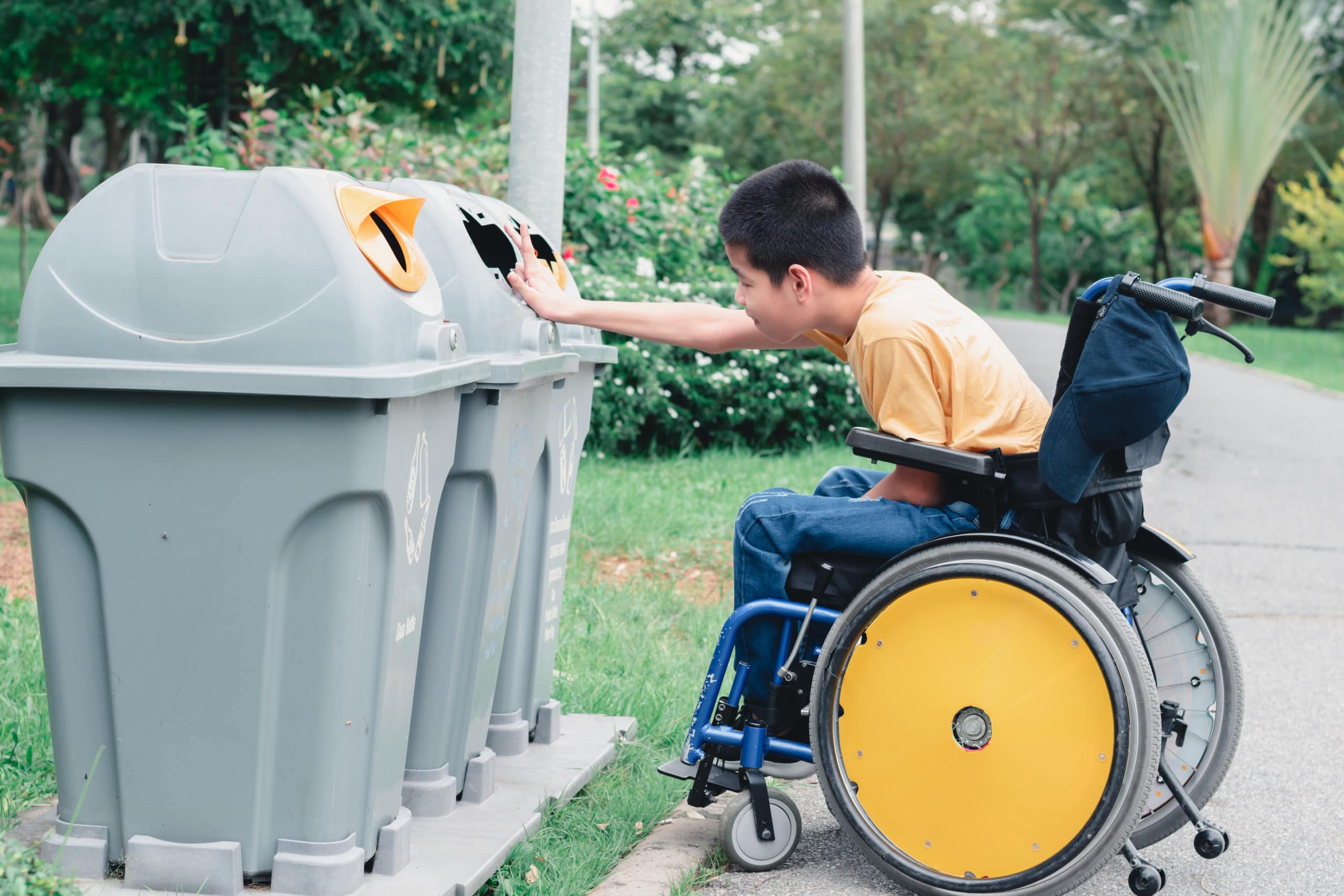 Another way to recycle plastic, glass, and aluminum is through bottle returns. Some states offer 5 – 10¢ per can or bottle when you bring your empties back to the store for recycling.
Reuse What You Can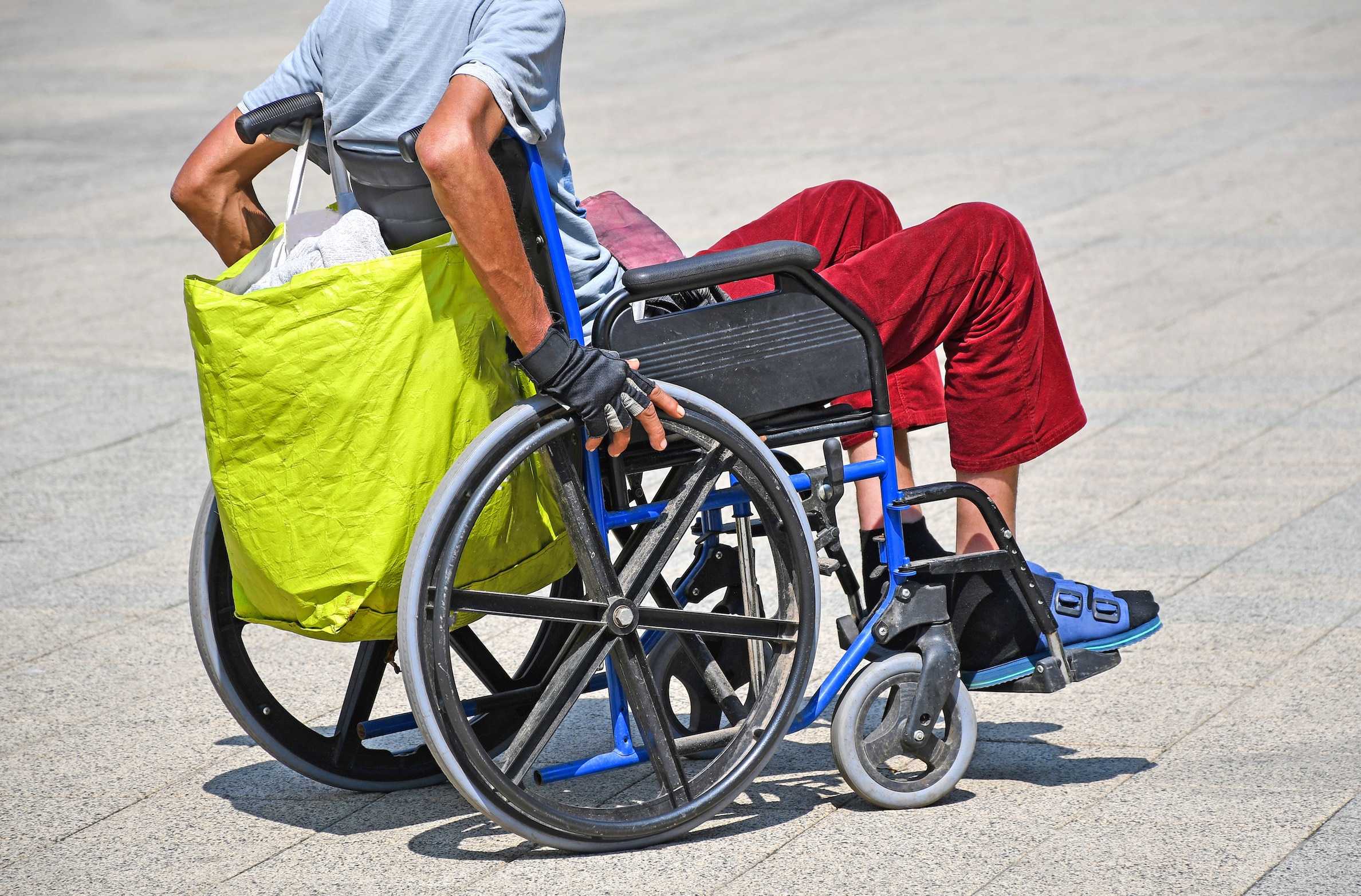 Try to get into the habit of bringing reusable bags with you when you do your shopping. This can apply not only to groceries but also any other trips in which you may make purchases. Hydred finds that traditional plastic bags aren't practical to transport with her wheelchair (her home state of California now bans stores from providing them anyway). Instead, she uses something with more structure that is less likely to fall off of her lap — the clear, cube-shaped package her duvet came in. By loading her purchases into it like a game of Tetris, the cube sits nicely on her lap, and she can wheel off to her next destination with ease.
What are some other ways to integrate reusable items into your routine?
Carry a reusable water bottle with you.
If you do opt for traditional plastic bags, use them multiple times instead of asking for new ones each time you shop. Fold up a few of them, and find a spot in your backpack, purse, or wheelchair to tuck them away. Check out Hydred's method of folding bags into compact triangles in the photo below.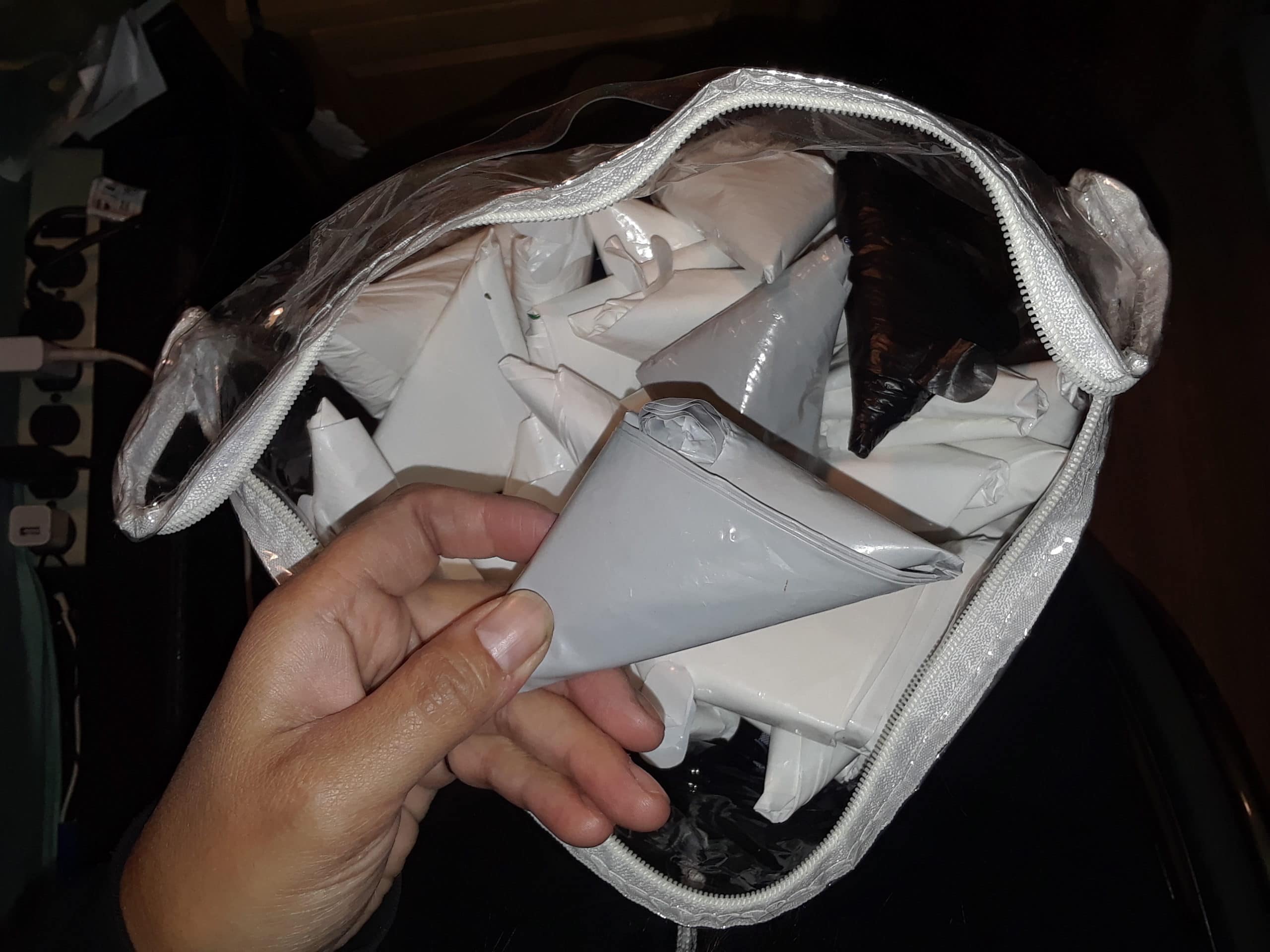 If you're a hot beverage drinker and café-going regular, invest in a thermos and carry it with you. Many coffee shops offer a small discount for bringing your own mug. It's a win-win; they save money on single-use cups, and you feel good about producing less waste!
Try Your Hand at Gardening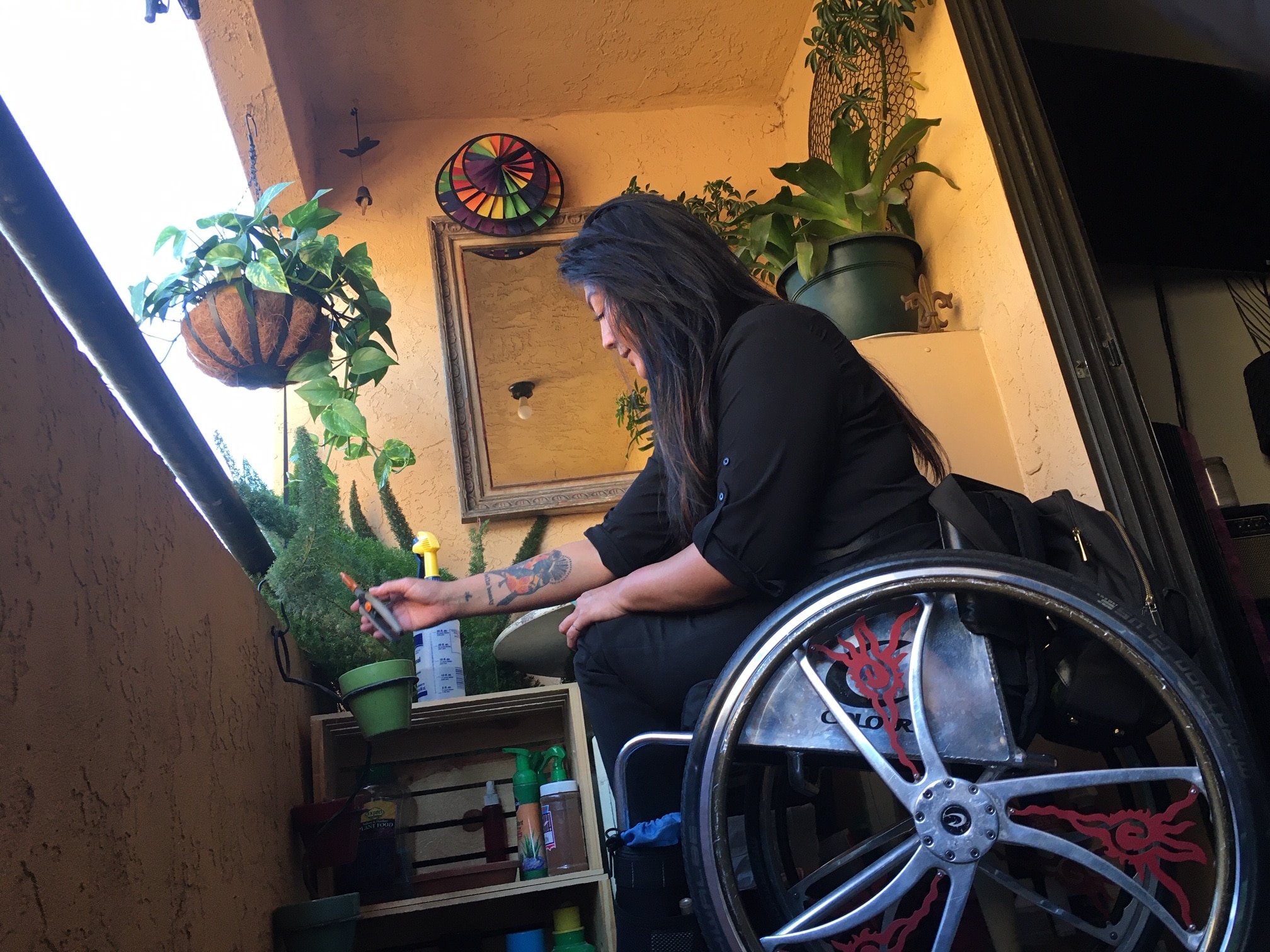 Not only does growing your own food lower transportation emissions and packaging waste, but it also helps feed pollinators, without whom we wouldn't be able to enjoy many of our favorite fruits and vegetables. And let's not forget that adding more fresh produce to your diet is healthy and generally uses less of our earth's limited resources than animal-derived foods.
If you have the time and space for an elaborate garden, great! Installing raised beds can make tending to your plants easier from your wheelchair. If you live in an apartment or don't have a yard, you still have options, even in the smallest of spaces. One possibility is growing herbs in small pots on your balcony or a sunny window sill indoors. If you have a little more room but don't have a plot for a proper garden, some veggies like tomatoes, peppers, and leafy greens do well in containers if certain conditions are met.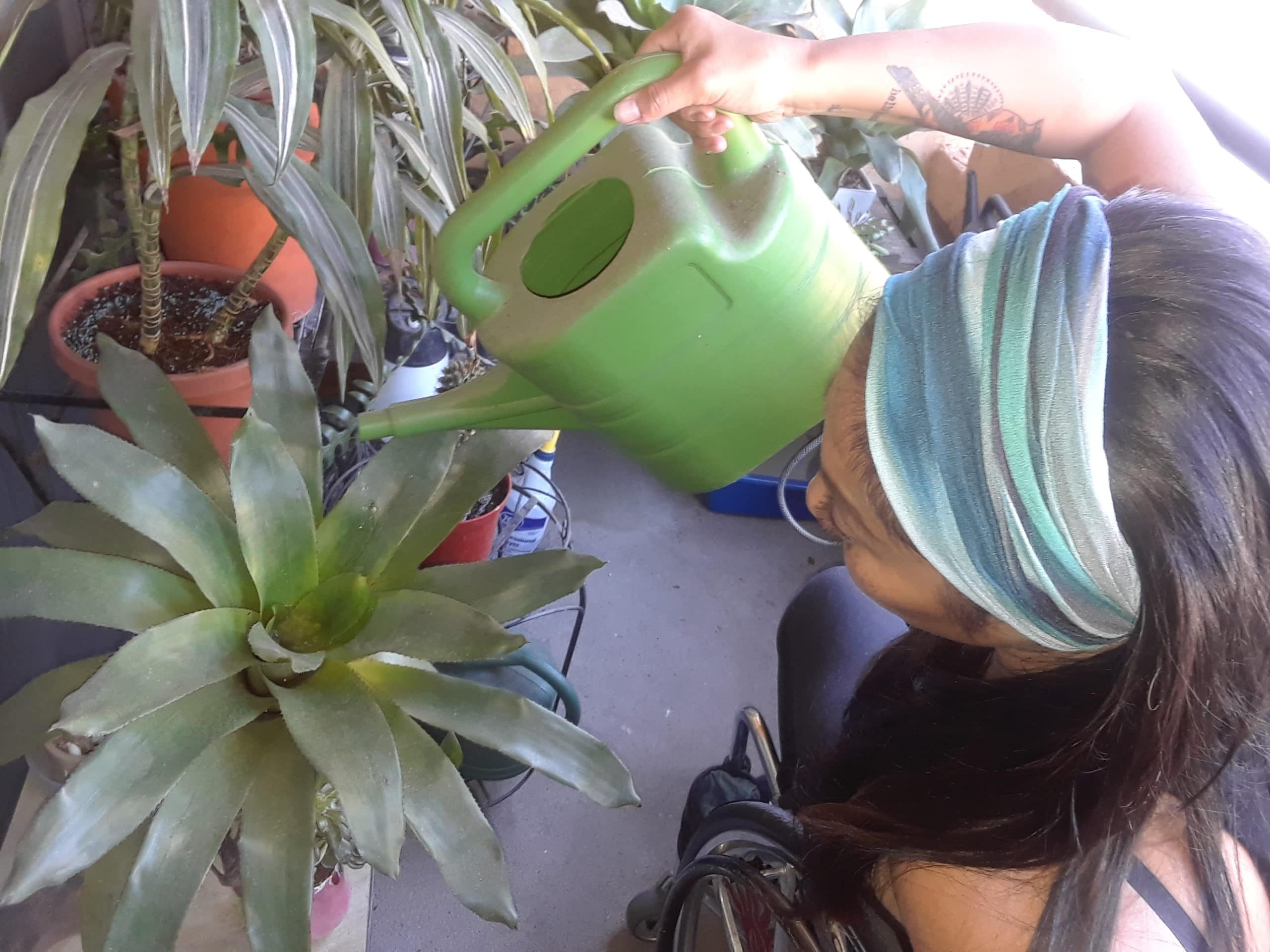 Hydred likes to fill her small patio with house plants such as bromeliads. She has also been contemplating trying a Bokashi bin for composting kitchen scraps and creating nutrient-rich matter for her plants. Composting is a great example of converting what would be waste into a useful substance to feed your garden.
Do It Yourself
Before junking an item, look into whether it can be repaired. Check YouTube for DIY tutorials, and don't be afraid to ask a friend or family member for help. Hydred likes to make her own mahl sticks (a tool used by painters) instead of buying them commercially. She also discovered she can perform minor repairs to her wheelchair by herself.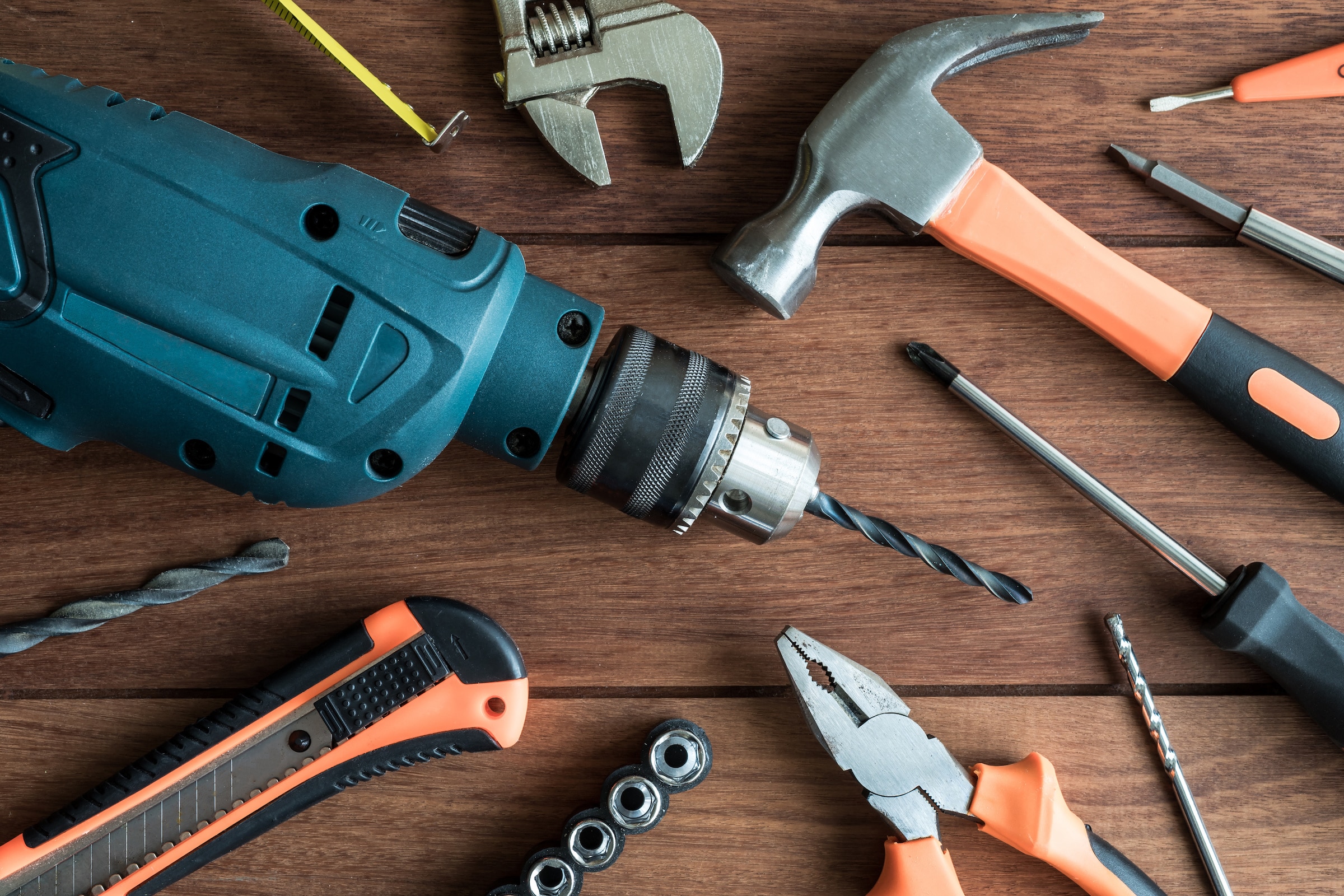 If you're unable to fix an indispensable item, check websites and apps like Freecycle, Nextdoor, Facebook Marketplace, or Craigslist for used versions that are still in working order before buying new. After all, one person's trash is another person's treasure!
Tips for Females
Have you ever thought about the piles of waste produced every time Aunt Flo comes to visit? Considering biological females comprise about half of the US population and in general, menstruate monthly for approximately 40 years, that's a lot of feminine hygiene products and packaging going into our landfills. Are there ways to reduce the refuse? Yes! Ponder the following:
Period panties: Brands like Thinx and Knix have come onto the scene in the past few years, and sales are proving they're a welcome arrival. The concept is simple — put on a pair of washable, reusable period panties, and your flow will be absorbed into the built-in liner. Depending on your cycle, you can use them in conjunction with a tampon for leak protection or alone on lighter days. Though they do seem pricey at first, buying a few pairs will likely save you money in the long run by decreasing the number of pads or tampons you purchase monthly. This type of underwear may be especially useful for people with low hand dexterity. No need to mess with shifting pads anymore; just throw on your period panties and go!
P.S. Thinx also has a line for incontinence called Speax.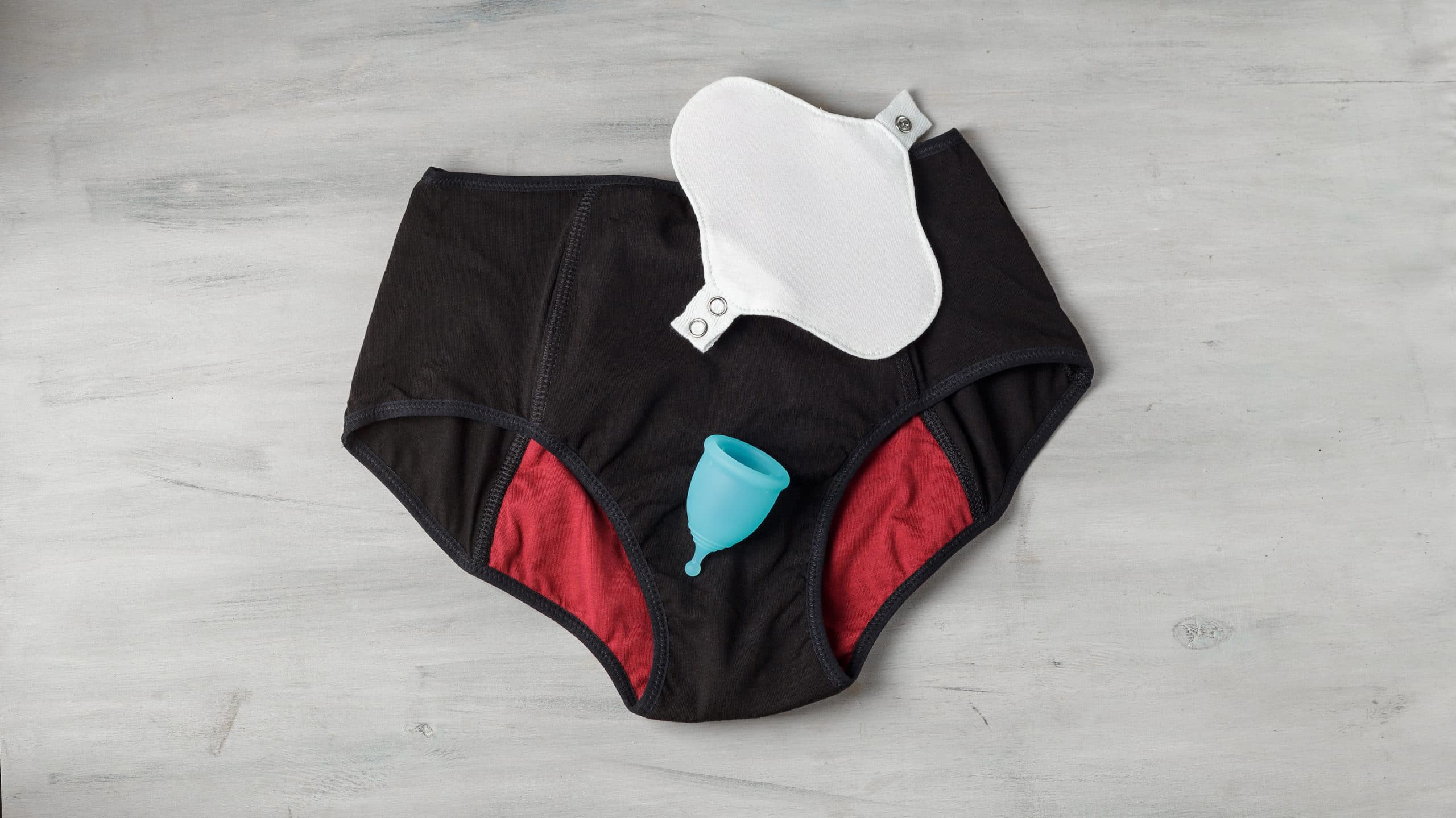 Menstrual Cups: Though using a menstrual cup does require a good amount of hand mobility, many females who have made the switch no longer rely on pads or tampons. However, successfully maneuvering a cup takes practice, and it doesn't work for everyone. If you do decide to give it a go, check out the Flex Cup which was designed by a woman with Ehlers-Danlos syndrome for easier insertion and removal than traditional cups.
Small Adaptations to Routine Tasks
Here are a few other ways Hydred integrates eco-consciousness into her typical activities:
wheeling to her destinations rather than driving when possible
buying local and organic produce from her neighborhood food co-op
turning off the tap when brushing her teeth or doing dishes
saving leftover food for another day instead of throwing it away
Change Is Personal
As a single human being, a huge task like saving the planet may seem impossible. Nevertheless, many people making small, daily changes can result in a big difference. Some people would argue that when living with a disability, you don't have the luxury of being eco-conscious, and that reasoning is completely valid. Taking care of your health should be number one. But that's also why caring for the planet is personal. What works for one person may not work for another. Some waste is inevitable, but if we can each make a few adjustments to our way of living with the environment in mind, every little bit helps.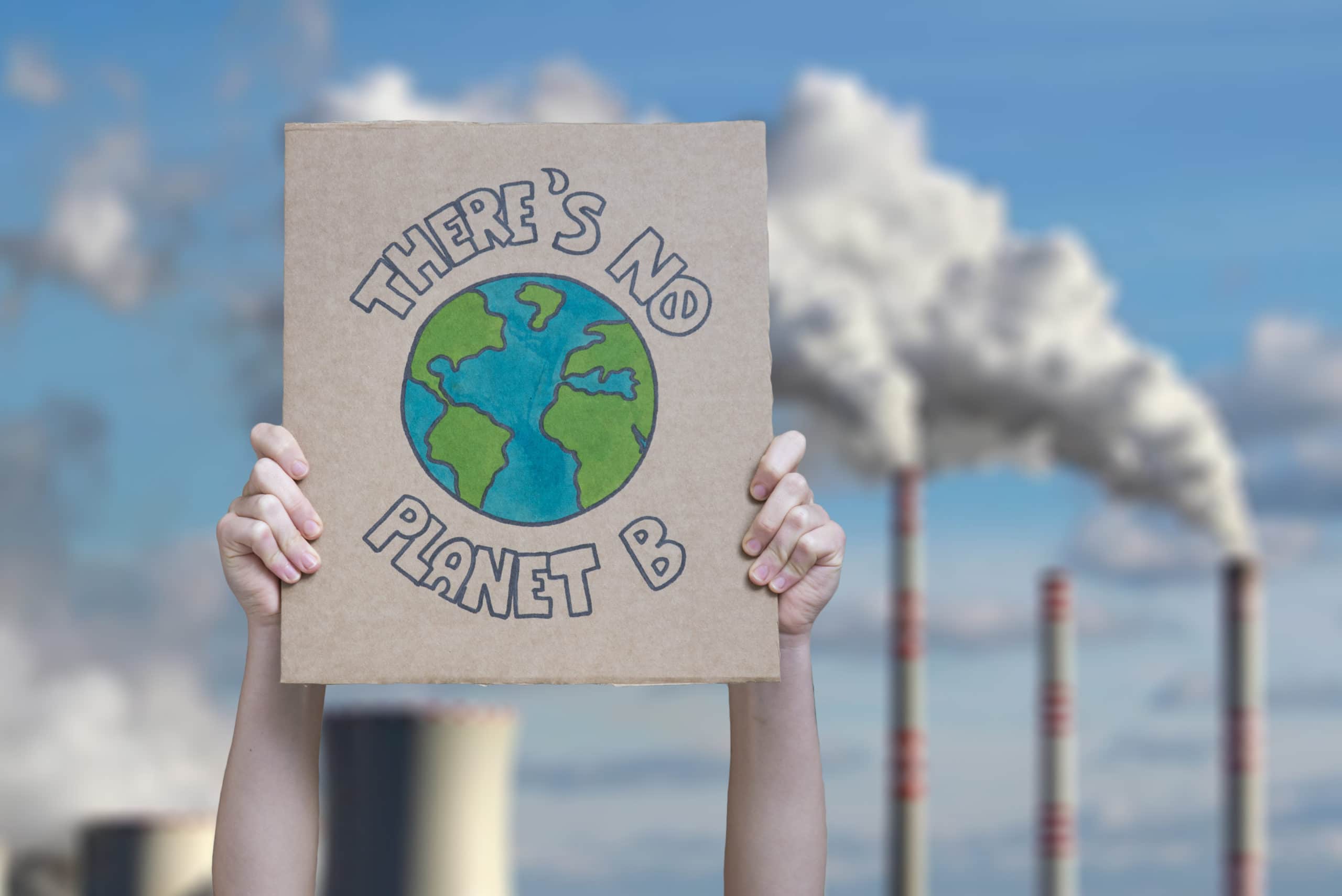 Maybe none of the tips we provide here will work for you, but perhaps you already have some that do! Head over to our Facebook page and let us know how you contribute to preserving the planet.
Editor's Note: This article was written by Betsy Bailey in collaboration with Comfort Medical Ambassador Hydred Makabali. For more Comfort Conversations with Hydred, see the following:
To read Hydred's story, check out A Lesson on Living Life to the Fullest with Hydred Makabali.
Have a question for Our Comfort Ambassador? Let us know! Contact us here.
Or, find a peer support group near you using our helpful reference guide!

The Wheel:Life-Comfort Medical Relationship
Wheel:Life is now part of the Comfort Medical family! With more than 26,000 followers on social media, we served more than 100,000 website visitors with lifestyle resources in 2015. To help us expand our community impact, we have become part of the Comfort Medical organization.
Thanks to our relationship, we are able serve even more people who use wheelchairs with lifestyle resources, helpful products, and services.
Comfort Medical provides an extensive selection of name brand catheter and ostomy supplies to thousands of customers nationwide.
Their attention to detail, unmatched customer service, and dedication to helping customers live a happier, healthier life are just a few of the many reasons Comfort is one of the fastest growing catheter and ostomy supply companies in the nation.
Note: The Comfort Conversations articles are for informational use only and are not intended to be construed as medical advice. Ask your doctor about issues related to your health and medical needs.
About the Author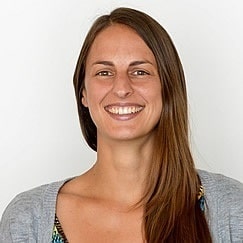 Betsy Bailey has a diverse background that includes experience in marketing research, business operations, travel and culinary writing, and playing volleyball professionally overseas.
Betsy has been writing for Wheel:Life since January of 2017 and thoroughly enjoys the process of getting to know her interviewees. She also enjoys a good vegan brunch, practices parkour, speaks French fluently, and travels any chance she gets!